---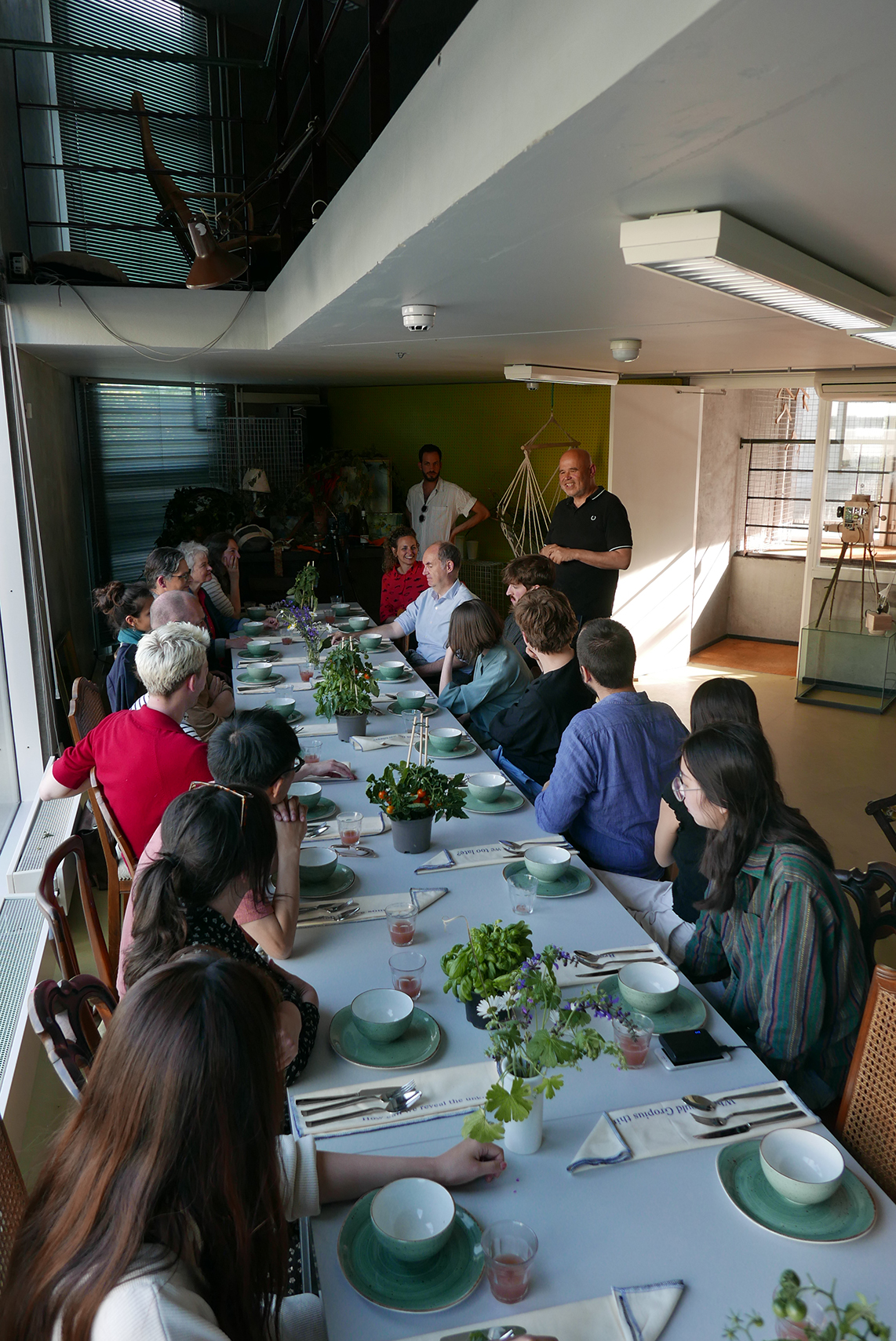 +
---
The impact and potential of a unified collective far supersedes that of an individual From Fluxus to Assemble, collectives have always arisen from a desire to imagine alternative modes of learning, doing, and being. In exploring the friction between what is and what could be, people are actively drawn together to reflect, react, discuss, and deconstruct. While the work of collectives and collaborations has been widely acknowledged, contemporary discourse still perpetuates the notion of design as an individual activity.
Het Collectief seeks to disrupt this idea. Instead, we have adopted an interdisciplinary approach to reinterpret and experiment with notions of post-humanist design. We are challenging the classical canon of humanism, which positions the human at the centre of existence, searching instead for more-than-human knowledge.
In attempting to shift away from the human-centred perspective of design, we ask ourselves what a more-than-human design practice might look like, and how we might create opportunities for this to occur. Working as a collective, our perspective underwent a necessary and ongoing shift from "me and the other" to "we" as a singular entity.
Our collective is formed through conversations; the sharing of knowledge, the building of relationship. Together we work to move from a known and regulated future - that of products and prototypes - to an exploration of the unknown.

Everything in uncertain; everything is probe
Our aim is to work fluidly; nothing is designed by one person alone. It is always the output of a collective attempt, struggle, and relationship. By adopting a different time scale, we slow down the result-driven process of design to work through collective input. Het Collectief's investigation is an open-ended process. We are aware that true solutions are non-existent in this world, entangled as it is in complex systems of politics, economy, ecology.
Het Collectief does not hold much interest in the making of sculptures, systems, or object solutions, but rather focuses on the creation of avatars of fiction, improbable artefacts of reflection, and empathy. Our process is both an intentional and playful act of discovering the potential of more-than-human agents to explore new narratives for potential futures.
In our work, we aim to move beyond the prototype and embrace the probe as a means of testing the boundaries of that which is known. It is not out of fear that we 'probe' instead of 'act', but it is out of empathy and respect for the unknown.
Within this concept of the probe, Het Collectief has developed a new template for object-making; the Border Object. Border Objects aim to redefine authorship, propose new ways of integrating and generating knowledge, question design, and explore new formal and material expressions. By combining human and more-than-human elements, we employ collage as a technique that facilitates the combination of different realities to create a new paradigm.

Neuhaus and new possibilities
Het Collectief seeks to engage with a wide audience, functioning as a site for thinking and exploration of indeterminacy in design. Our interactions and collaborations with different parties have evolved from the formation of the UnKnown collective, established during a project within the Masters department of Design Academy Eindhoven.
The UnKnown collective operated as a satellite of Neuhaus at Het Nieuwe Instituut. The collective was invited to participate in the program of the Neuhaus symposium and exhibition, in which we introduced our first collection of Border Objects through several public workshops.
As Het Collectief, we have established our own rhythm, our own balance of patience and impetus. We have formed a new template, a collective dynamic that aspires to embrace more-than-human agents and participation. Through building empathy for each other (between humans), we are able to develop shared values and expand our notions of care that, in turn, can build empathy for the more-than-human.

Het Collectief is an ongoing project seeking new forms of engagement and collaboration. This transcendental specificity is not a new zone for investigation; the feeling that an overarching idiosyncrasy pervades all human endeavors and conceptions (personally and as a race) has been primary fodder for much of the last century's thought (Derrida's transcendental signifier, Heidegger's dasein, Williams's red wheelbarrow and Beckett's self-referential mumblers easily surface as examples). And obviously scientific developments of the latter modern period have, by introducing theories of relativity and uncertainty, displaced human ascendancy in the classic hierarchical order. But again the subject calls out afresh and intact in the age of the internet.
The algorithm of the standard web search, particularly Google Image searches, produces results almost Fluxus-like in its unharmonious counterpoint — a press image of some catastrophe, next to a banal product shot, followed by a standard holiday photo, and so on. The unimaginably nimble computations have pulled the polysemic underpinnings of general humanness into near existential focus. Disparity (or at least arch slipperiness) is shown in dominant aspect — and this is due mainly to speed. As said artists and theorists have been detailing general disparity for a long time but never has it been presented so involuntarily and naturally (as in outside the context of philosophy or art) and with so much velocity.3 Life more than ever seems to be suspended in a matrix of the un-taxonomic, the random, the tenuous and the fabricated.